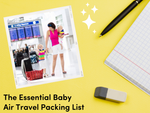 Whether you're visiting Grandma or taking your first-ever family vacation, the thought of traveling by plane with a baby for the first time can be stressful. But if planned properly, air travel might be one of the most enjoyable ways to travel with your child.
To help you keep things simple, here's a quick and easy checklist for baby air travel so you know what to bring on the plane:
The Baby Air Travel Packing List
Traveling by plane comes with a series on constraints that parents need to be mindful of (space, weight, number of pieces of luggage...). That's even more true when it comes to travelling with an infant. To simplify your packing, we've broken our travel packing list into three categories: 
Your carry-on
Your checked bag
Your oversize baby gear (non-luggage)
Here's a quick walkthrough of what you need in each.
The Carry-On
While many airlines allow you to bring a diaper bag and a rolling carry-on, we discourage you from doing so to limit weight. Indeed, regardless of your airline, there is the inevitable moment when you enter the plane to go to your seat, where you end up holding all your bags plus your baby all at the same time. In that very moment, you want to make sure you have as few items in your hands as possible. That's why we recommend to take only your diaper bag ad a carry-on.
Like all parents, you probably already have a diaper that you are used to. THIS is the bag you want to take as your carry on. Space in a plane is limited (even more so with a baby on your laps), so you want to be able to extract anything from your diaper bag with one hand, no sight and within seconds. Only your familiar diaper bag can give you that level of comfort.
Your diaper bag should include: 
Diapers (for the duration of the flight plus a few more to account for possible delays)
Cleaning solution (baby wipes or

 

diaper lotion)
Dry wipes or

 

cotton pads
Bottles & milk (if applicable)
A large swaddle or light scarf: can be used as a blanket, a pillow, a breastfeeding cover, a bib, a towel to dry a spill or even an emergency diaper.
Change of clothes for baby: take 2 set of loose-fitting clothes for your baby. Footed pajamas are the ideal.
Change of clothes for you: having a baby on your lap increase the changes of liquid spilling on you. A pair of leggings and ax extra shirt may save you from sitting in wet clothes for a few hours. Keep these is a waterproof bag in case of a leak in your bag.
Large waterproof bags for soiled clothes
2 bibs
Your baby's sleeping 'aids': pacifiers, sleeping blanky…
Snacks for you and your baby
A couple of favorite toys and books
Breast pump (if applicable)
Baby carrier: a must-have to be able to use both your hands while holding a baby (think bathroom break…)
Whatever bag you use should have enough room to store the above without having to remove all its content to looking for something. The most important thing here is to go with what you are familiar with (same diapers you use at home, same diapering routine, clothes you know fit your baby). A plane ride is not the time you want to experiment with anything new. Being familiar with where items are located and how to use them will save you a tremendous amount of stress once on board.
On that same note, we recommend that you place your important documents (passport, boarding pass, wallet) where you usually store them in your daily life. The last thing you want is to shuffle through your entire bag to locate your boarding pass with a baby on your hip and a line of people waiting behind you. Use the power of habits to your advantage and don't change something that works in your daily life just because you are on a plane.
The Checked Bag
Depending on the length of your trip, you can pack your baby's stuff into travel blocks within your own suitcase or dedicate an entire checked luggage to it.
In his suitcase, your baby will need:
Diapers: for the duration of your trip or at least enough to have time to hit a store
Wipes or diaper lotion (same as you're at home diapering)
Baby wash
Baby sunscreen
Bibs
Baby toiletry pouch: brush, nail clipper, nose cleaner, …)
Medications (if applicable)
A basic first aid kit
A few small, beloved toys
Clothes
Sleeping sack
Packing light with a baby is difficult, so don't feel bad if your baby's stuff takes more room that yours. It gets better as they grow and don't need as many diapers or changes of clothes every day.
Oversize Baby Gear
Finally, there are a few items that don't fit into your suitcase but are worth bringing with you to make your life easier in the airport or at destination. These include:
A light stroller: being able to stroll your baby all the way to the gate of the plane will save your back and make the airport section of your trip more comfortable.
Car seat carrier: this is probably the best setup for air travel as it not only gives you the comfort of a stroller but also allow you to bring your infant car seat (see next)
A car seat: having your car seat at destination will make car travel safer and more comfortable. Some airlines will allow you to use your car seat on the plane if there is an empty seat next to you. Check their website to see if that's an option.
A travel crib: if your destination accommodation does not provide a baby crib, consider bringing your own. This cane same you some major stress, especially if you plan to arrive in the middle of the night.
Figuring Out How to Travel With Infants? Stock Up Before You Go
Figuring out how to travel with a baby is the art of preparation. If you have the right supplies, your baby can happily travel anywhere and so can you. Ultimately, the most important thing your baby need is you and your loving harms to hold him.
We – at La Petite Creme – make diapering on the go easy, with all-in-one organic French diapering lotion that can replace your diaper ointment, wet wipes, and diaper cream. Of course, it's available in travel size (2 fl oz), because the last thing you should have to worry about is losing your diaper lotion to TSA.
✨💛 HAPPY TRAVELS! 💛✨