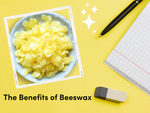 At La Petite Creme, we are proud to have been able to create baby diapering essentials that are 100% safe for your sweet little one, without any harmful chemical at all.
If you wish to know more about the full list of our ingredients as well as their own benefits, please read our blog Why We Chose Our ingredients.
Today, we'd like to focus specifically on beeswax.
What is beeswax exactly? How is it harvested? And what does it bring to our diapering lotion and diaper balm as well as to your baby's skin?
Let's take a closer look!
What is Beeswax?
Beeswax is a 100% natural wax that comes from honeybees and is produced by the working bees.
When originally formed, wax in the honeycomb is nearly white, but it yellows with the addition of natural oils introduced by the pollen from the flowers.
Is the Beeswax we use Ethical?
Yes!
We supply our beeswax from ethical and sustainable suppliers. Our beeswax is certified Organic and the pearls are 100% pure. It means they are filtered to be free of debris.
What are the Benefits of Beeswax?
Beeswax is a true wonder of nature and full of amazing benefits for the skin:
Rich in vitamin A, it is great to help keep the skin moisturized and hydrated.

With mild antibacterial properties, beeswax helps in cleaning the skin, protecting it from bacteria, and leaving it healthy. 

Naturally anti-inflammatory and anti-viral, beeswax helps healing wounds and rashes.

Its hypoallergenic properties help soothe irritations, itching, and cracked skin.
The magic in all this is that, combined with olive oil, beeswax properties are truly enhanced.
This is why those 2 ingredients are the stars of our products and your baby's most amazing aid in fighting diaper rash.
Using our lotion daily, at every diaper change, will make sure your baby's skin is clean, free of bacteria and well protected.
Using our balm to heal a diaper rash that might have appeared (read our blog post to know more about what can cause a diaper rash) will make sure that your baby's skin is soothed from the irritation and protected from bacteria.
✨💛 HAPPY AND HEALTHY DIAPERING 💛✨