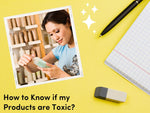 Daily, we use all sorts of products on and around us: cosmetics, soaps, house cleaning products, detergents...
Among all those available on the market, some are unfortunately not the safest for your health: filled with harmful chemical ingredients, they can cause serious illness!
But how to know which ingredients in your personal products are harmful?
We investigated for you on what to look out for and how to choose safer alternatives.
Nasty ingredients to avoid in personal care cosmetics
Personal care contains a very wide range of products.
We could suppose that what is presented on the supermarket aisles is safe, right?
This is unfortunately not the case, and we strongly advise that you doubt every single one of them.
Which personal care cosmetics can contain harmful ingredients?
The list can be long but here are the main ones:
Shower gel
Hand soap
Shaving gel and cream
Shampoo
Hairstyling products, dyes, or straighteners
Toothpaste
Make-up
Perfume and deodorants
Sunscreen
Body lotion
Face moisturizer
Babies' cosmetics
Which toxic ingredients should I look out for?
Parabens (risk of breast cancer after long exposure)
Talc (risk of ovarian cancer, lung disease if inhaled)
Artificial fragrances (risk of allergies, birth defect, cancer)
Artificial colors (risk of allergies, skin sensitivity)
Toluene (risk of birth defect, blood cancer)
Diethanolamine (risk of cancer)
Sodium benzoate and triclosan (endocrine disruptors)
Sulfates: SLS (sodium lauryl sulfate) and SLES (sodium laureth sulfate) (risk of skin irritations)
Polyethylene glycol (PEG)

(risk of respiratory disorder, cancer)
It is highly recommended to be extra cautious before buying any cosmetic that you will use every day on your skin.
Our best advice:
read the labels,
stay away from ingredients with names you cannot pronounce
do some research on the ingredients you don't know,
prioritize products that are certified organic and/or EWG Verified.
It requires a bit of work but it is oh so worth it. And once you get to know which products are safe, your work is done and you can enjoy a worriless self-care routine.
Nasty ingredients to avoid in house cleaning products
House cleaners unfortunately are also packed with harmful chemicals we should avoid.
When cleaning our homes, we are in direct contact with dangerous ingredients -  either through our skin or by inhaling them. 
Which house cleaners can contain harmful ingredients?
Laundry detergent
Laundry softener
Stain remover
Dishwasher detergent
Dish soap
Kitchen counter cleaner
Bathroom and toilet cleaners
Air fresheners
The best advice here would be, like for cosmetics and personal care products, to question every single one of them and read the labels.
Which toxic ingredients should I look out for?
The most toxic ingredients to be aware of in cleaning products are:
Fragrances (risk of allergies, birth defect, cancer)
Ammonia (risk of respiratory disorders)
Bleach (risk of hazard when mixed with other products, lungs irritations)
2-Butoxyethanol (risk of blood effect, reduced fertility)
Ethanol amines (AKA-MEA-DEA-TEA) (risk of liver tumors)
Phthalates (risk of hormones imbalance, asthma, cancer)
Phenols (risk of severe burns, respiratory damages)
Triclosan (endocrine disruptor)
How to find safe alternatives to cosmetics and house cleaners?
All the above may seem scary and overwhelming. But there are some ways to make your research easier!
You can download apps on your phone
They are free and will help you identify which products are safe and which are not while shopping.
For example, EWG or Think Dirty apps will provide you with the level of toxicity.
You can make your own house cleaners
Castille soap, baking soda and vinegar are the stars of natural cleaning supplies. They are easy to use, 100% safe and much cheaper than all the complicated products out there. And simple "recipes" are now easy to find on the web.
We have your baby's diapering care solution
By using La Petite Creme lotion or balm, you can be 100% assured that the ingredients are safe.
We are Certified Organic, EWG Verified as well as cruelty free and developed our products to specifically have a safe option for you and your little ones.
Both our lotion and balm will also do wonders to moisturize your very own skin. A perfect safe solution for the whole family!
✨💛 HAPPY AND SAFE DIAPERING 💛✨