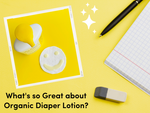 Though their bums may be little, we're very aware that they deserve the best. Because of this, many of us are hunting for a safe alternative to baby wipes.
It turns out that the handy packets of baby wipes that we've all been relying on for so many years aren't actually all that safe for our babies' delicate skin. This is something that we feel passionate about, and it's why we got into the baby diapering lotion market - only this time, we're doing it a little differently.
In this post, we're going to tell you what's so great about organic diaper lotion so that you can make an informed decision for the future of your baby's bum.
Diapering with a lotion is the future! Let us tell you why...
No harsh chemicals
The most important thing to highlight is that natural diaper lotion contains no harsh chemicals. And though we may assume that all baby products are safe, this, unfortunately, is not the case.
Baby wipes fall into the high-risk category when it comes to baby products. This is due to the harmful chemicals that they contain - these chemicals can be irritating to your baby's skin and are also potential allergens.
The bottom line? (Pun intended…)
Nobody wants to be putting that stuff in contact with their babies cute, little behind.
Why organic diaper lotion?
"Organic" is a promise that the product you're using is natural and hasn't been treated with harsh chemicals in the production process. There's nothing safer to expose your baby to.
Organic diaper lotion keeps your baby's delicate skin safe and protected from harsh chemicals. Infants have particularly thin skin, meaning that they absorb products at a much higher rate and volume than we, as adults, do. Though this knowledge can feel a little overwhelming at first, it doesn't have to be scary! There are so many brands working towards providing your baby with safe products and organic alternatives to make the transition easy for you.
What's inside our organic diapering lotion?
Our diapering lotion - "La Petite Creme" - is made from 6 natural ingredients - ingredients that we proudly state on our website so that it's impossible to miss them. We value transparency with parents when it comes to tiny bums…
And just in case you missed it, here they are:
Organic olive oil

Organic beeswax

Water

Organic Glycerin

Vitamin E

Limestone
We believe in using the finest ingredients for the babies in our lives, and we think that you should have access to those too!
Our diaper lotion replaces baby wipes and diaper rash cream in one handy pump bottle to clean, protect, and heal your baby's bum in one easy application.
To get your own organic diaper lotion or diaper balm, you can get to know and purchase our organic baby products here.
✨💛 HAPPY DIAPERING 💛✨