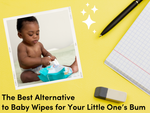 Until your baby is potty trained, you and your diaper bag are going to be co-dependent. Stuffed inside are all the tools you need for diaper changes: diapers, wipes, diaper lotion, and diaper rash cream. What if I told you that you could do away with most of these diapering tools by switching to an alternative to baby wipes? It's true! Moms all over the world are saying good-bye to traditional baby wipes in favor of multi-use products that are safer for babes and the environment.
The Problem with Traditional Baby Wipes
It's no secret that traditional baby wipes aren't the best choice. That's why anytime you walk down the diaper aisle at your local Target you are bombarded with baby wipes advertising they are "hypoallergenic" or "tested by dermatologists." The reason for a rise in safe baby wipes is because the traditional wipes contain several harsh ingredients, such as fragrances, parabens, and petroleum, that aren't kind to a baby's soft skin. 
The Problem with "Safe" Baby Wipes
As a mom, you want to make the best choices for your children. That's why it makes complete sense for moms to gravitate towards safe baby wipes. However, just like traditional baby wipes, those wipes designed for sensitive skin are still harmful to the environment and our sewer systems. You can not even imagine the number of wipes that clog toilets and septic systems every year! 
Plus, Country Living reports, "90% of wet wipes contain plastic". From baby wipes to cleaning wipes to screen wipes to makeup wipes to glass wipes, the vast majority are made using plastic and will take over 100 years to biodegrade – during which time, they will have massively contributed to our climate crisis."
The Alternative to Baby Wipes French Moms Swear By
I don't know a single mom who isn't always looking for ways to better herself as a mom. At the same time, every mom I know is constantly on the search for ideas and products that will make it easier. That's why the book Bringing Up Bebe: One American Mother Discovers the Wisdom of French Parenting by Pamela Druckerman gained popularity. What do French moms know that American moms don't?
For one thing, French moms don't use diaper wipes; instead, they use a multi-use alternative to baby wipes. They use a liniment to cleanse, moisturize, and protect their baby's bottoms rather than using diaper wipes, lotions, and diaper rash barrier creams. Not only is it better for babies and the environment, but it also makes your diaper bag lighter and uses less time.
La Petite Crème: An Alternative to Baby Wipes for All Occasions
La Petite Crème Oleo Calcareous Liniment is the #1 used product in France (and throughout Europe) to change diapers, and American moms are discovering the joy of this alternative to baby wipes, as well. The unique, French-inspired La Petite Crème is designed especially for your little one's bum using only 6 natural ingredients (organic olive oil, organic beeswax, water, organic glycerin, vitamin E, and limestone). 
Rather than having to use baby wipes and then apply various lotions to protect your baby's bottom, you just need one product. Simply apply La Petite Crème to a reusable cloth and wipe. The crème cleanses, moisturizes, and protects your baby's skin. It even works for poop explosions! No need for an extra baby wipes warmer, lotion, or diaper rash cream. 
A clean, soft, protected bottom for your baby - and a lighter load for you - is worth switching to this alternative to baby wipes.
✨💛 HAPPY DIAPERING 💛✨