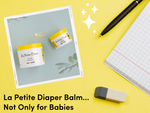 Did you know that diapering creams can be used not only for babies?
We always want what is best for our little babies, especially when it comes to their comfort and protecting their little bum.
But these magic ointments have wonderful properties that can perfectly be beneficial to help the whole family!
In this blog, we tell you how a diapering balm can help heal various skin conditions.
What Are Diapering Balms For?
Diapering balms are magical little ointments that have a thick and creamy consistency. They are packed with healing properties to treat diaper rashes and leave a protective barrier on the most sensitive skins.
If you are looking for an organic and 100% natural diapering option to help with your baby's diaper rash, look no further!
La Petite Creme diaper balm is a safe and organic everyday diaper rash cream that will heal your baby's sensitive little bottom in no time.
Can I Use Diaper Balm on My Skin Condition?
Babies' diaper balms and ointments are specifically made to heal irritated skin.
And even if they are on babies shopping aisle, La Petite Diapering Balm can do wonders on children, adults, and elderlies skin conditions.
Depending on your own skin sensitivity, it is always better to ask for your dermatologist's recommendations. But all in all, diaper balms can help with the following irritations:
heat rash,
contact dermatitis,
eczema,
insect bites,
dryness,
stretch marks,
scars.
La Petite Creme diaper balm is made with 100% natural ingredients, is Certified Organic, and EWG Verified.
Packed with organic beeswax, it will rapidly sooth your skin irritation.
Because it also contains vitamin E, our organic ointment has anti-inflammatory and wound healing properties that will heal any dryness or rashes on your skin.