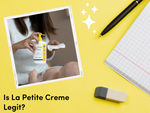 You've heard about it, read about it, seen online videos or fellow parents use, but are still wondering if La Petite Creme truly works?
Well, then this blog is for you!
In this blog, we tell you all about how La Petite Creme works and why it is the best diapering solution for your baby.
What is La Petite Creme?
La Petite Creme was founded more than 10 years ago by French mums Cecile and Fanny in an intent to help all mommas who are looking for a heathy, safe, and efficient diapering formula for their baby's sensitive skin.
Both our diapering lotion and diaper balm are made in our own factory in Miami, Florida.
We proudly are:
Certified Organic,
EWG Verified,
and Leaping Bunny Certified (cruelty free)
In addition to offering a healthy and safe diapering solution for your baby, we want to help limit the use of diaper wipes for two simple reasons:
Diaper wipes usually contain harmful chemicals and perfumes that are dangerous for your baby's health,
Diaper wipes have a very negative impact on the health of our planet.
Our diapering solution is guaranteed without any harmful chemical and to be 100% safe for any type of skin, even the more sensitive or allergies prone ones.
What are La Petite Creme Ingredients?
All our ingredients are 100% natural. They have all been chosen for their naturally occurring properties:
Organic olive oil to protect and moisturize,
Organic beeswax to heal,
Organic glycerin to moisturize,
Vitamin E to nourish,
Limestone to disinfect,
and water to clean.
In our blog Why We Chose Our Ingredients, we tell you more in details about the amazing properties of each of our ingredients.
Does La Petite Creme Really Work?
Using a new product, especially when it is for your baby, is not always an easy choice and we absolutely understand your hesitation.
That's why we are collecting reviews from other parents who are using La Petite Creme to help you know what they think about it.
Also, if you have any question, don't hesitate to contact us. Fanny will be more than happy to answer them! And as the co-founder, she knows it all about our organic diapering products!
In addition, if for any reason, La Petite Creme doesn't work for you or your baby, we have a 100% satisfaction guarantee.
✨💛

 

HAPPY DIAPERING

 

💛✨