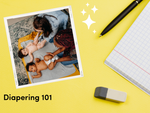 Diapering your baby is one of the most important tasks that you will undertake as a parent. Not only do you want to keep your baby clean and dry, but you also want to make sure that you are using safe and effective products. Here are some best diapering practices and a list of recommended products.
1- Change diapers frequently
Babies need to be changed frequently, typically every 2-3 hours. By changing your baby's diaper often, you can best avoid rashes and infections. Even if the diaper seems dry, it's a good idea to change it to prevent bacteria build-up.
2- Clean thoroughly
When changing your baby's diaper, make sure to clean your infant's bottom thoroughly. It is best to choose a gentle and safe diapering solution to wipe away any waste on your baby's skin. Make sure to clean all the folds and creases to avoid rashes and irritation.
At La Petite Creme, we have the perfect solution for you. All our ingredients in our organic diapering lotion are 100% natural and safe for your baby's skin. They are the guarantee to a perfect clean while leaving a wonderful barrier to protect your baby from any rash.
3- Air it out
Give your baby's bottom some air by leaving them without a diaper for a few minutes each day, which can be done as part of the diaper-changing process. This can help prevent diaper rash and other skin irritations.
4- Use the right size diaper
Make sure to use the right size diaper for your baby. A diaper that is too big or too small can lead to leaks and chaffing on your baby's skin. 
5- Choose safe and effective products
When selecting products for diapering (diapers, lotions etc.), look for those that are safe and effective. Avoid products with fragrances or harsh chemicals that can irritate your baby's skin.
Now that you know the best practices for effective diapering, we can review the best products you should have in your baby changing station. With the best products available, you can avoid skin irritations and decrease the possibility of infection and bacteria buildup.
Organic Diapering Lotion
By using the right moisturizers on your baby's bottom, you can avoid any pesky diaper rashes and ensure your baby's skin is hydrated and healthy. With our La Petite French organic diapering lotion in your nursery, you will have the best and safest product for your baby daily diaper change.
Cotton pads and Washcloths
Using soft, extra large cotton pads is a sanitary way to clean your baby's bum. It will make sure that you are wiping your baby's bottom with gentle, chemical-free materials. Alternatively, using reusable washcloths is not only a gentle way to clean your baby, but it is also a cost-effective and eco-friendly option.
Organic Diaper Balm
Including La Petite diaper balm in your diapering routine will add a skin barrier that repels bacteria, keeps your baby's skin rash-free, and protected from diaper chafing.
By following these best diapering practices and using safe and effective products, you can help keep your baby clean, dry, and comfortable. Always make sure the products you are using are fragrance and chemical free to reduce rashes and other irritations. It is also best to include our organic diapering lotion or balm to ensure your baby's skin is moisturized and free of chaffing.
✨💛 HAPPY DIAPERING 💛✨