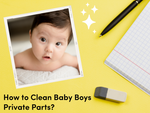 Taking on the role of a boy's parent will fill your life with immense happiness!
Yet, it's essential to know that raising a boy also comes with its own set of unique challenges distinct from raising a girl. Differences can be found in their energy levels, specific necessities, and various stages of health development.
One crucial aspect that notably differentiates them is the genital care.
Why Proper Baby Boy Genital Care is Important
Babies, regardless of their gender, deserve the most care, especially when it comes to their delicate hygiene needs. It's important to understand that baby boys care require some extra attention too!
Regular cleaning of a boy's genital area not only helps in preventing potential discomfort for the baby but also protects against infections, irritations, and health problems. 
Step-by-Step Guide on Cleaning Baby Boys' Private Parts
Cleaning a baby boy during diaper change requires a careful approach, as well as patience. Ensuring both their comfort and health.
Here's a step-by-step guide on how to clean your baby boy's private parts:
Prepare everything you need within arm's reach

Wash your hands thoroughly

Open the diaper and gently remove the soiled diaper

Gently clean the area. Apply

La Petite Creme lotion

onto a cotton pad/cloth and clean the mess up.

Put on a clean diaper once the area is clean, making sure you secure it properly.

Dispose of the soiled diaper properly.

Wash your hands again.
Circumcised vs. Uncircumcised Hygiene: What You Need to Know
For circumcised babies, the foreskin has been surgically removed, simplifying the cleaning process. Gentle cleansing of the genital area is typically sufficient.
Uncircumcised baby boys have a natural foreskin that requires a slightly different approach. It's worth mentioning that the foreskin typically doesn't cause issues. It is attached at birth and gradually becomes retractable over time.
It's important to avoid forcefully retracting it, as this can cause harm and to clean only the visible parts of the genital area.
Helpful Tips for Ensuring Comfort During Cleaning
Remember to always create a warm and calm environment to help your baby feel at ease during diaper change. Be tender in your touch, and don't hurry through the cleaning routine.
Opt for mild and organic cleaning items such as La Petite Creme lotion and soft cotton pads or washcloths. This ensures a gentle cleanse while adding a soft protection layer all at the same time. What sets our product apart is its safety – you don't need to worry about clearing off any residue. Our specially formulated product is designed with your little one's comfort and well-being in mind.
Maintaining proper hygiene for your baby boy
By adhering to the steps in this guide, you'll confidently and gently manage this task, offering your little one the comfort and cleanliness he deserves.
Every child being different, choose what feels best for you and your little one. When taking care of his hygiene needs today, you're not only keeping him clean and healthy but also nurturing his development and emotional bond with you.