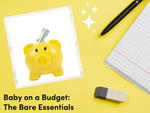 Did you know that budgeting tips say that you should budget a minimum of 75 dollars on just diapers per month for your baby? When you factor in the costs of everything else, having an infant can be quite expensive. 
If you're getting ready to be a first-time parent, it can feel a little overwhelming to figure out how to afford everything you'll need. What is essential to know is that there are some baby essentials you'll need to take care of your little one. 
If you're trying to figure out how to take care of a baby on a budget, keep reading to learn what essentials you'll need. 
Clothing
It's easy to go all out buying cute outfits for your brand new little one. However, remember, they'll be growing fast. 
In addition, going through more than one outfit a day isn't uncommon. While you can grab a few cute outfits, focus on the essentials for day-to-day. 
You'll need between five and eight onesies or other soft outfits. If you don't have the ability to do laundry often, you might want to increase that amount. 
Remember, you don't want to put your little one to bed with a blanket. So, you'll also want three to four baby sleepers or sleep sacks. 
Finally, don't forget baby socks and newborn hats to help keep your tiny one warm (consider putting the socks in a lingerie bag for the wash to avoid losing them.)  You'll want five to seven pairs of socks and one to two hats. 
Diapering Needs
Your newborn will likely go through from 8 to 12 diapers a day. Diapers are an essential need, and some of the bulk deals can be very tempting. 
However, remember, your little one is growing quickly. If you stock up too much, it's possible they'll outgrow that size before you run out. 
If you decide to use cloth diapers, make sure you have enough for at least two days so you have time to wash and dry them. 
When you're taking care of a newborn, one crucial thing is to protect their skin. Especially because diaper rash can be expensive overtime in treatment creams, pediatrician visits, etc. 
One thing you need to consider is baby wipes. Unfortunately, babies can have an allergic reaction to baby wipes because of a preservative in them. 
If you're looking for an organic solution to provide a gentle clean and diaper rash protection 24/7, you should use La Petite Creme. This diapering lotion replaces wipes and diaper rash cream with one product. There are even subscriptions that can help you save money. 
Next, don't forget to grab a waterproof pad for diaper changes.
Finally, if you're washing reusable cloths or diapers, you'll need a cloth-diaper detergent. 
Grooming Items
From bath time to taking care of your baby, you'll need a variety of grooming items for your little one. Don't forget soft washcloths, baby shampoo, baby wash, baby lotion, and a baby bathtub for bath time. 
For grooming needs, you'll need baby nail clippers, a bulb syringe, a digital thermometer, and a medicinal dropper.
Baby Furniture
It's great to have all the fun furniture; however, there are only a few things you really need when it comes to the essentials. This includes a crib, crib mattress, crib sheets, waterproof pad if the mattress isn't waterproof, baby monitor, and a car seat. 
You can also consider a bassinet or a co-sleeper for your little one. 
Feeding Needs
Even if you're planning to breastfeed, there are things you will need. For breastfeeding moms, you'll need a breastfeeding pillow, nursing pads, nipple cream, and a breast pump. 
Another thing that's important to have whether you're breastfeeding or bottle-feeding is burp cloths; you should keep around 10. 
If you're bottle-feeding, you will need five to eight bottles, a bottle brush, and bottle nipples in varying sizes. 
Successfully Take Care of Your Baby on a Budget
You don't need all the latest things to successfully take care of your little one. Make sure you have the essentials and lots of love, and you'll be good to go raising your baby on a budget. 
Don't hesitate to add essentials to your baby registry. While it might not be the most appealing items, these are the one you will get the most use out of.
A lot of these essentials can be bought second-hand from local thrift stores or local Social Media groups. Reach our to mother's groups in your community and see what other parents are ready to part with as their babies grow older.
Increase your savings by using La Petite Creme. Add us to your registry and start shopping with us today.
✨💛 HAPPY DIAPERING 💛✨